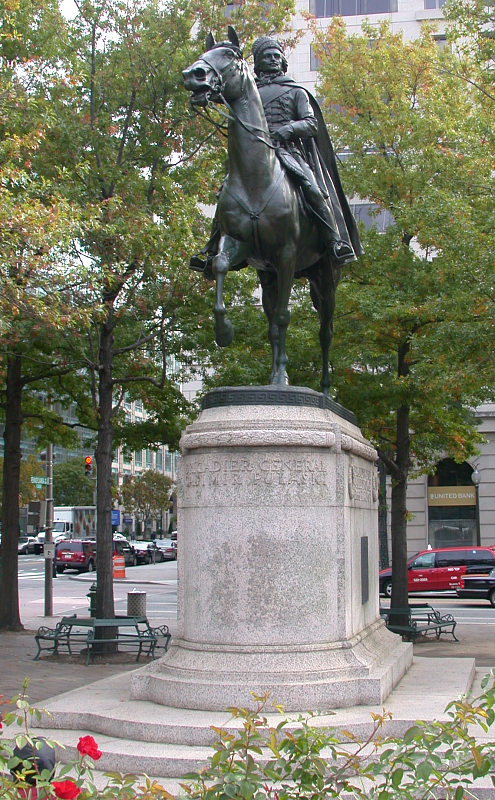 Upon learning about Casimir Pulaski's death, the Continental Congress resolved on November 29, 1779, that a monument should be unveiled in Savannah in the honor of Brigadier General Count Casimir Pulaski. However, the cornerstone of the monument was unveiled as late as 1825, and the monument was built in 1859. A bust of Pulaski carved by Henryk Dmochowski was unveiled in the U.S. Capitol Building in 1867, and in 1910, the same spot hosted a bronze equestrian statue depicting Count Pulaski in his military uniform as a Revolutionary soldier by Kazimierz Chodzinski, unveiled in a ceremony involving President William Taft. Over the last two centuries since those events, many other memorials to Casimir Pulaski have been unveiled. The Hero of Two Nations was, and still is, the source of constant curiosity on part of historians, writers, and Polish and American patriots.
His love for liberty, courage, and heroic death have inspired many artists. Historical painters Jozef Chelmonski and Juliusz Kossak made him immortal on canvas. Poets and novelists in Poland and the world draw inspiration from his example. Henry Wadsworth Longfellow dedicated a piece to Casimir Pulaski. In Polish literature, Pulaski appears in two works: "November" (Listopad) by a Romantic-era journalist and novelist Henryk Rzewuski, and "Pulaski in America" (Pulaski w Ameryce) by a satirist, publicist, and playwright Adolf Nowaczynski (1876-1944). Pulaski's figure is best represented in Polish political pieces, Romantic-era legends, and memoirs. Several musical pieces were written in his honor.
The Polish American community sees Pulaski as their hero, who motivates them to promote their homeland. Since 1929, they have been paying tribute to Pulaski by marching down 5th Avenue NYC on the first Sunday of October in the big Pulaski Day Parade. Americans have used Pulaski's name to refer to streets, roads, parks, bridges, and even entire towns and counties. Many monuments, memorials, statues, and commemorative plaques are dedicated to the Father of American Cavalry. In 2009, President Barrack Obama signed a joint resolution of the House and the Senate which posthumously made General Pulaski an Honorary American Citizen (111th Congress Public Law 94).
The memory of Casimir Pulaski in Poland is also alive and well. His name is on a Polish navy vessel ORP "Gen K. Pulaski," Casimir Pulaski University of Technology and Humanities in Radom (Uniwersytet Technologiczno-Humanistyczny im. Kazimierza Pulaskiego w Radomiu), and other schools and organizations. Warka is among numerous entities to be proudly using the hero's name. A street and residential complex in Warka-Winiary, a local school, Warka Town Boosters (Towarzystwo Milosnikow Miasta Warki), and other organizations paid tribute to Pulaski by adopting his name. The Casimir Pulaski Museum is a living monument to the Hero of Two Nations, which keeps his memory very much alive.