The manor in Warka-Winiary is a museum, but, after all, it is also a home. For over 300 years, the manor changed owners, bustled with life, witnessed history and human experiences. Following owners and evolving fashion trends affected its architectural shape and decor. Today, after a general renovation, we can say that this home regained its former glory and manages to capture the spirit of traditional Polish hospitality by inviting anyone and everyone who wants to cross its threshold for a visit. Here, you are certain to learn not only about the fate of the exceptional man who was Casimir Pulaski, but also feel the atmosphere of an old noble house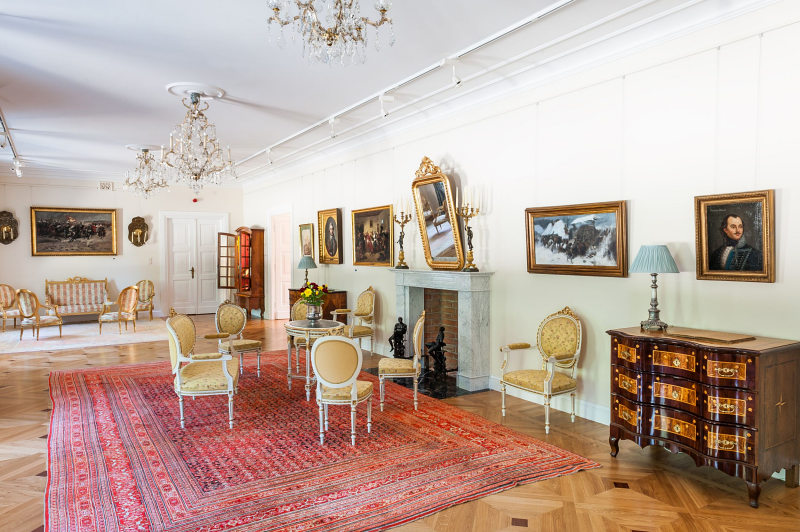 The permanent exhibition in the manor shows Casimir Pulaski's life in Poland and America, at the same time featuring other Poles who made contributions to the social, political and cultural life in the United States. Over the years, the Museum has been gathering items connected with Tadeusz Kosciuszko, Julian Ursyn Niemcewicz, Helena Modjeska, and Ignacy Jan Paderewski.
The stylish interiors give the impression of touring the house of a wealthy Polish nobleman. We can see sets of furniture, paintings (mostly portraits and battle scenes), textiles, clocks, weapons, silver, porcelain, as well as old documents, maps and prints. Own exhibits are complemented by loans from partner museums, including the National Museum in Warsaw, The Liw Castle (Muzeum Zbrojownia na Zamku w Liwie), and the Historical Museum of the City of Krakow.