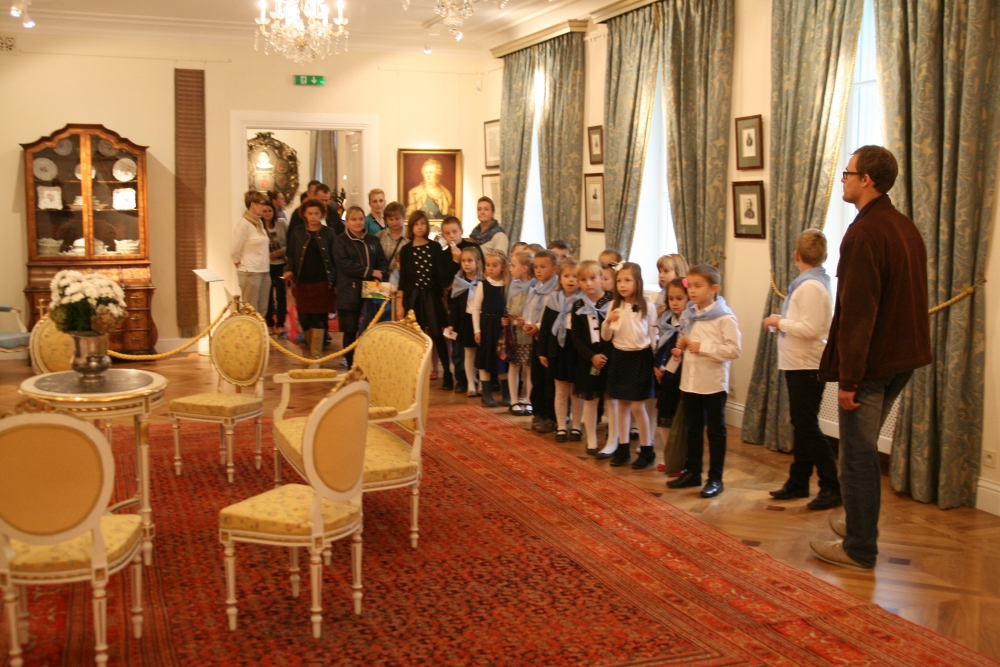 The Museum welcomes preschoolers to take part in museum lessons, workshops, walks through the park, and meetings in the Manor, which the children are free to tour. Our classes give children an opportunity to discover selected parts of the Museum, its historic building and old park. It is a unique chance for them to become familiar with such concepts as a museum, history, historic places, and the passage of time.
Teachers can feel free to customize our offer and combine museum lessons with workshops, ask our guides to narrate a hike through the park, and teach children all about Warka legends and Casimir Pulaski tales and stories. All preschool teachers and young children care takers are welcome to schedule a visit to our historic Museum and tailor it to the children's needs.
Suggested topics:
1. What is a museum?
The class involves meeting children in the permanent exhibition area, and teaching them about the idea behind a museum. Children tour the permanent exhibition and learn associated phrases. After the tour, children take part in a workshop designed to implement the newly acquired knowledge and get them involved. A guide will show them several interesting exhibits, and children will have the chance to use them in their art projects (involving coloring books, cut-outs, and decorating a crown, fan, sable, or similar historic objects).
2. Secrets of an old house. How did people use to live?
Children tour a selected exhibition, and learn about formerly used everyday objects and old habits. It is a great opportunity for the children to learn where and how people used to store food, dishes, cutlery, and how it differed from storing their sheets. What were feasts? Who and why wore those long sash belts? Those and other questions will be answered during a tour, followed by a workshop, designed to get children involved.
3. Children, this is my friend Casimir. A fairy tale on Casimir Pulaski.
During the class, children listen to a story about the brave Casimir, accompanied by images shown on a screen. Afterwards, children take part in art projects, during which they color an image of the brave Casimir on a galloping charger.
Lessons for preschoolers and young children take about 45 minutes. We admit groups of a maximum of 25 children.