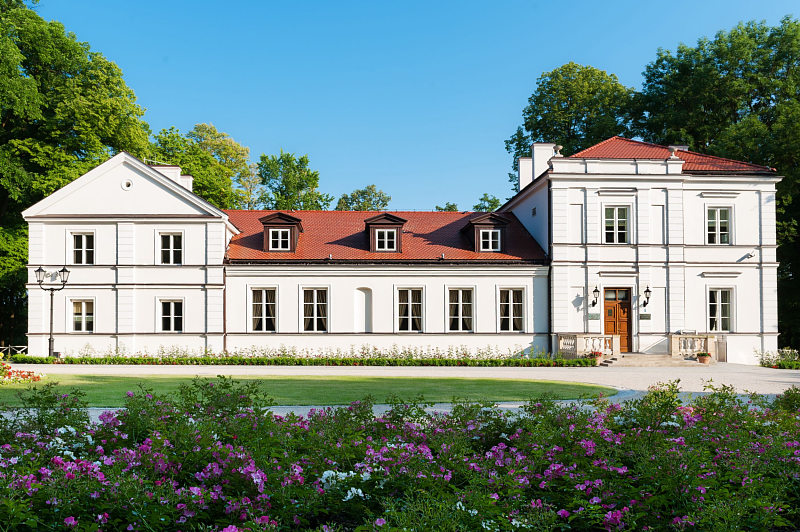 Winiary, once a village and now a northeast part of Warka, has a long-standing tradition of wine and history. Located on an escarpment on the Pilica River, this extraordinary place is one you simply must visit.
Tall, old trees of the historic park surround this white classicistic manor. Its history can be traced back to the early 17th century. For over 300 years, it often changed owners, bustled with life, witnessed history and human experiences. Following owners and evolving fashion trends affected its architectural shape and decor. Today, after a general renovation, we can say that this home regained its former glory and manages to capture the spirit of traditional Polish hospitality by inviting anyone and everyone who wants to cross its threshold for a visit.
In 1967, the manor began to house the historical and biographical Casimir Pulaski Museum, devoted to its most prominent resident and Polish-American Hero in the quest for the nations' independence. In the Museum, you are certain to learn not only about the fate of the exceptional Casimir Pulaski, but also about other great Polish expatriates in the United States. Warka-Winiary will give you a feel of an old noble house and the opportunity to rest surrounded with untouched nature. Barks and whispers of old trees, birds singing, and the all-present spirit of this place attract local and international tourists every day.
The Casimir Pulaski Museum in Warka makes its life mission to cultivate the memory of the Hero of Two Nations Casimir Pulaski and other great Polish expatriates in the United States and beyond, and to preserve the material heritage tied to them. It protects the tangible and intangible assets connected with the culture of Warka, Grojec and their environs. Finally, the Museum aims to meet the needs of the local community by providing them with learning opportunities, creating patriotic stances, community ties, and emphasizing the underlying mutual history.