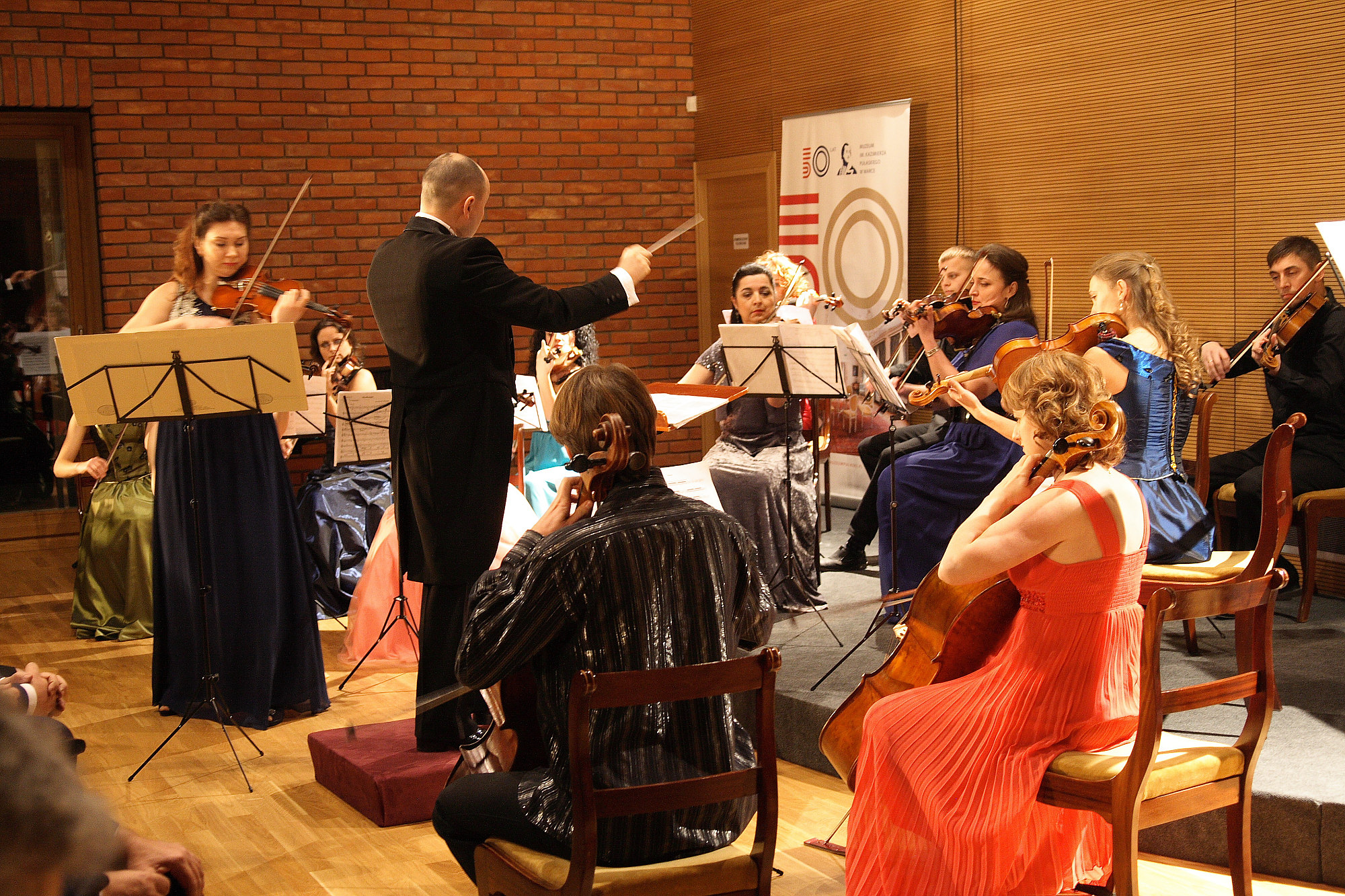 On January 14, 2017, we had the first chance to celebrate the Museum's 50th anniversary with a wonderful concert by Virtuoso Khmelnitsky Oblast Chamber Orchestra from the Ukraine with Alexander Dragan as conductor.
Their concert, entitled FOUR SEASONS – Vivaldi and Piazzolla, featured Olga Malyk (violin) and Angela Pryhodko (violin). This extraordinary event was "worthy of the place and occasion," as many guests put it.
We thank representatives from the local governments of Grojec district and the town of Warka: District Council Chair Wladyslaw Kumorek; Board Member Wojciech Wojtczak; District Council Members Wieslaw Czerwinski, Maciej Dobrzynski, Krzysztof Kazmierczak, and Andrzej Zareba; Warka Deputy Mayor Teresa Knyzio; and Warka Town Council Chair Aldona Rzeznik. We would also like to thank our guests for sharing in this experience.
Before the concert, the guests listened to congratulatory letters by institutions who had assumed Honorary Patronage over the event: Senate Speaker Stanislaw Karczewski and Mazovian Province Marshal Adam Struzik. Grojec District Board Member Wojciech Wojtczak read a letter by Grojec District Governor Marek Scislowski, and Teresa Knyzio congratulated our Museum on behalf of Warka Mayor Dariusz Gizka and the entire Warka municipality government.
The concert consisted of two parts; first, guests had the opportunity to listen to one of the most recognizable pieces of all times: Four Seasons by Antonio Vivaldi. After the interval, the Orchestra played Four Seasons by Astor Piazzolla. Vivaldi (1678-1741) created this breathtaking piece around 1720 in Mantua, Italy and dedicated it to his patron; the public first learned about it in Amsterdam, the Netherlands in 1725. In the maestro's music, we can hear praise of life and joy, and we almost see the beautiful landscapes, hunts, summery rainstorms, colorful autumn leaves, snow blizzards, and feel the serenity of winter. Four Seasons leave many breathless, and it is hard to resist emotions while listening to this masterpiece.
240 years later came Astor Piazzolla (1921, Argentine – 1992, Buenos Aires), who was a son of Argentinean emigrants in the USA and a famous tango composer with one of the most recognizable tango pieces in the world in his rich collection; though in his music, Piazzolla was often influenced by Baroque. In the years 1964-1970, he recomposed Four Season, taking Vivaldi as his inspiration. Piazzolla attempted to show the atmosphere of Buenos Aires with its crowded little streets, cafes, and tango-filled nightlife. His interpretation of Four Seasons in the 21st century is quite different from the original, though it is a tribute to the master with many literal annotations to the original piece. This harmonious clash makes those two pieces into an unforgettable experience.
We had chosen this concert for the inauguration of our anniversary celebrations to take listeners from Baroque and 18th century music to the 1960s; from the USA to Buenos Aires; from Casimir Pulaski times to the 1960s, when our Museum came to life. What links us additionally is the location – Casimir Pulaski at the times of the Bar Confederation fought in Podolia and Volhynia in today's Ukraine. The Virtuoso Khmelnitsky Oblast Chamber Orchestra from the Ukraine symbolically reminded us with their concert about the turbulent fates of Polish expatriates such as Casimir Pulaski, who was forced to flee his homeland, fought in the Ukraine, and through Germany, Turkey, and France arrived in America.
The Virtuoso Khmelnitsky Oblast Chamber Orchestra, with its professional and precise musicians, played wonderfully, and the concert was incredibly well-interpreted.
We wish to thank Angelica and Jaroslaw Nowociel from the "Koneser" Warsaw Distillery (Warszawska Wytwornia Wodek KONESER) in Grzegorzewice for facilitating the event.
Iwona Stefaniak