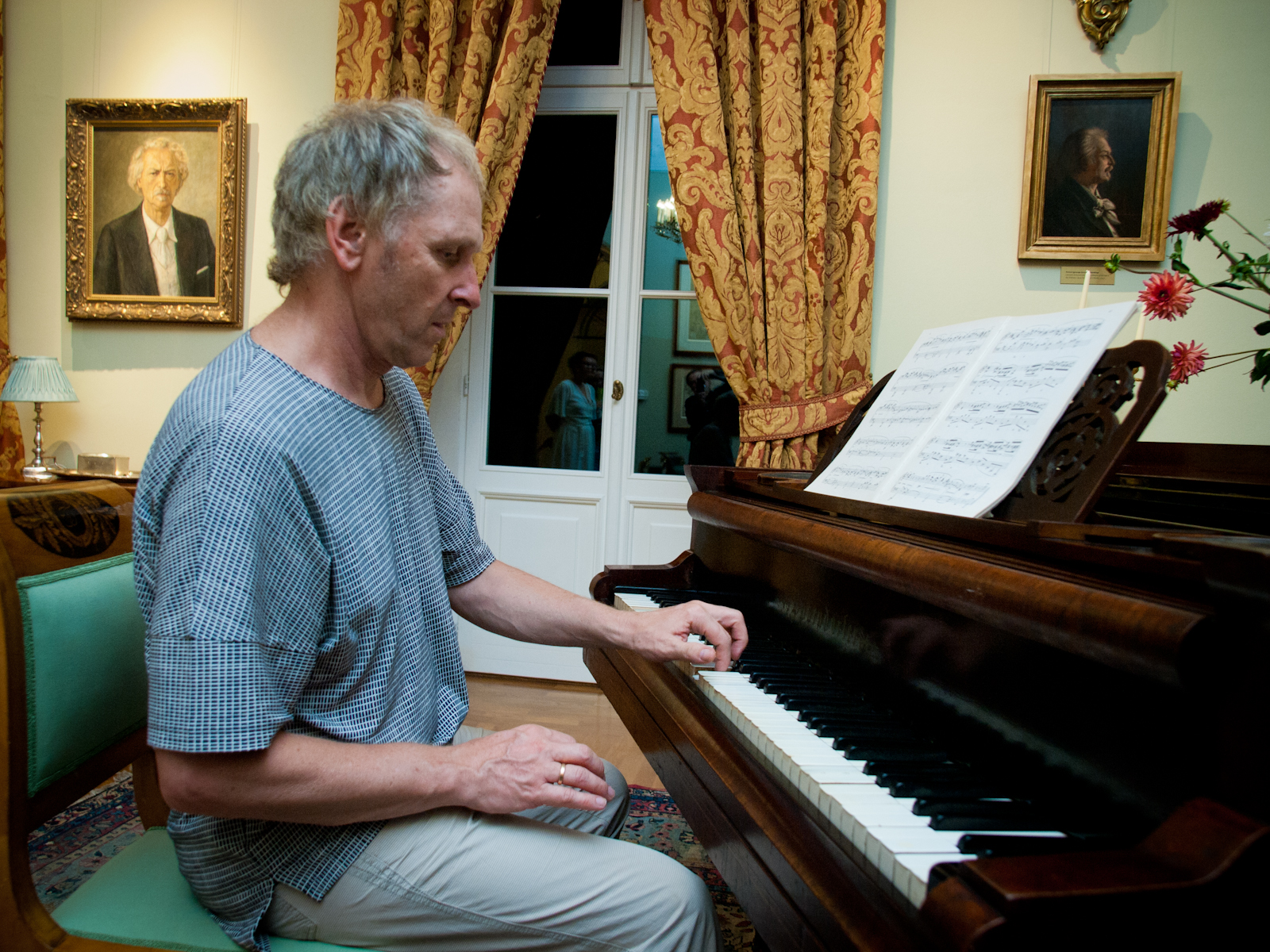 The 20th edition of Muzzeum Jazz is already behind us. On August 1, 2017, the Casimir Pulaski Museum in Warka reverberated with music by Artur Dutkiewicz Trio. We interviewed its leader several days before the concert.

You often call yourself a "Polish Jazz Ambassador." It doesn't fully resonate with me. After all, ambassadors would often spend years confined to their diplomatic posts. And you? Since 2015, you've bagged 80 concerts (solo and with band), half of which happened abroad. You've performed in New York, Ottawa, Sydney, Copenhagen, Hong Kong, Tirana, Krasnoyarsk, Mexico, Izmir, Riyadh, Paris... I could go on.
That's true, I don't spend much time at home. I'm rather restless. My wife and manager Hania is like the ministry. She keeps sending me away to build bridges between nations. A good ambassador is one that shows his country's best features, represents it and maintains contacts with the outside world, and doesn't spend time at a desk. My diplomatic posts are pianos, which can be encountered all over the world, recently even at airports. Thanks to Chopin, the piano became a truly Polish instrument, just like castanets are an instrument traditionally associated with Spain. Music is a tool of communication with forever changing communities. It encompasses elements of culture from which it is derived and bears witness to the times in which it is created. In my songs, I draw inspiration from Polish folk motifs and my studies into classical music. I guess everyone can become an ambassador of a place they come from. It's enough that you are yourself, don't pretend to be somebody you're not, and share the best elements of the culture of your region with the rest of the world.
The newest album by Artur Dutkiewicz Trio is entitled "Traveler." Is that jazz living out of a suitcase?
Our destinations lie outside as well as inside us, and these two worlds are intertwined thanks to music. We travel all our lives within the full range of our awareness and maturity. The suitcase represents our head, which is constantly filled with impressions, news, experiences, and our brainy hard drive saves all that. It often becomes overloaded and requires hitting the reset button. However, making skilful use of its contents is an art in itself. In normal lives, we actually travel a lot, see the world and its culture, and show our traditions. The piece entitled "Traveler," which gave its name to the entire album, was written right after we came back from Lviv. "Elephant's Dance" (Taniec Slonia) is based on a scale primarily used by musicians in Lebanon, India, and the Baltic States. I've had the pleasure to play with some of those artists. "Two Mazurkas" (Dwa Mazurki) represents my impressions from travelling back to where I came from. "Hey, Hania" (Hej Hania) encompasses the joy that kept us on our toes long after we came back from Australia, and "Neti Neti" features flashes of nirvana experienced after a meditation course in India.
You've proven time and time again that interpreting a classic, whether we play Chopin or Jimmy Hendrix, is not about replaying the melody, but about reinventing it. I believe the same applies to travelling. You don't just copy "exotic" melodies, you freely interpret them.
If we speak about Chopin, I've never interpreted nor redone his music because of the enormous amount of respect I have for him. I learnt to improvise when playing Chopin's mazurkas in school, and this served as a source of inspiration for writing my own mazurkas.
Jazz is improvisation. It writes its own themes, or uses the ones that the artist has heard somewhere... At the beginning, you should show it in a way that is as true to the original as possible, and later wing it, using your own language, which you have created over the years. You're supposed to experience, describe and create a whole. From the practical point of view, you come up with a 7-minute piece based on a minute long theme. This is how the greatest like John Coltrane or Miles Davis worked.
I've recently been to Albania, where I learned a beautiful melody entitled "Tuman Kuqe." I used it as inspiration to create a 10-minute improvisation with the local clarinet artist Ermal Rodi at a festival called Jazz in Albania. We interlaced the crude Balkan melismatic way of playing with the spacious sound of the noble piano, which is based in classic harmony. We were stunned, and we both enjoyed the combination. Little does the world know about Albanian music, which is, after all, incredibly gripping. They've mastered a unique singing method called "iso-polyphony," which involves simultaneous singing of several melodies. It's now part of the UNESCO World Heritage program.
Does a jazzman leave home to travel?
No, it's enough that you close your eyes, engage your imagination, and open the correct mental folder with travels. The strongest thought will prevail, and emotions will transpose onto the keyboard through improvised sounds. You then record them on a note sheet or tape. For me, as a listener, music is like a vehicle which takes me on a journey to the entire range of our emotions. When I listen to a Beethoven symphony, I find joy and pain, love and sadness, anger and innocence, war and peace, drama and harmony. Art can elevate all that and make it nobler.
A journey without a final destination is like a long tramp. You need a person and place to come back to. We are happy that the Casimir Pulaski Museum in Warka has been one of those places for you, and the upcoming concert is not your first visit at the Museum.
Yes, I had the pleasure to perform at the Museum a couple of years ago. I've heard that you now have a brand-new beautiful concert hall. Even folks in Australia have heard about that. My friend, who is a well-known photographer in Sydney, Tom Koprowski, has had a photo shoot here, so I can't wait to follow in his footsteps.
Thank you for your time.