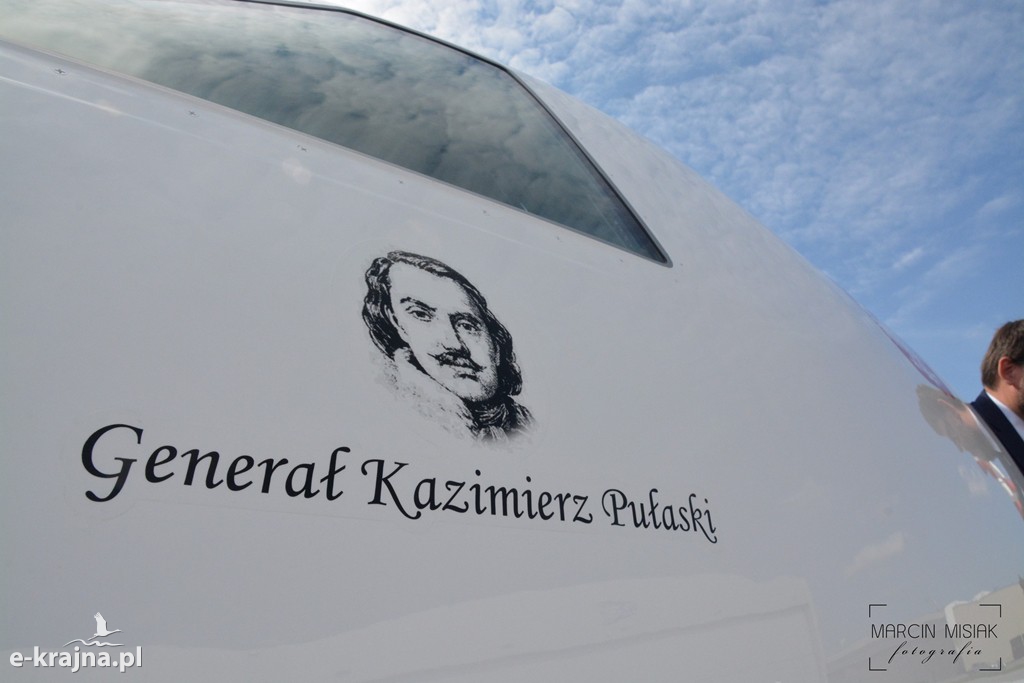 On Saturday, July 29, 2017, the Military Aviation Works in Bydgoszcz (Wojskowe Zaklady Lotnicze w Bydgoszczy) hosted a solemn ceremony. Representatives of the Polish Ministry of National Defense claimed a new Gulfstream G550 VIP plane to transport Poland's finest.
An Internet-based competition resulted in christening the plane 'General Casimir Pulaski.' Deputy Defense Minister Bartosz Kownacki and many other distinguished guests, among them Museum Director Mrs. Stefaniak, took part in the ceremony.
Lt. Magdalena Kozak was named the plane's godmother. Taking down the symbolic white and red sash, Lt. Kozak said: "General Casimir Pulaski, I now baptize you." Lt. Kozak is a physician specializing in trauma and a writer who has completed tours of duty in Afghanistan.
'General Casimir Pulaski' numbered 002 came to Poland from the United States following an order of new VIP planes placed by the Polish government. Powered by two Rolls-Royce engines, the G550 has the efficiency to fly 6,750 nautical miles/12,501 kilometers nonstop and the maximum takeoff weight of 91,000 lbs. /over 41 tons.
It is worth noting that Gulfstream (now part of defense giant General Dynamics) has moved its operations to Savannah, Georgia, which saw Casimir Pulaski die. It seems to be the prevailing factor why the Internet community decided to go with the Polish-American Hero.
May the new plane well serve the Republic of Poland and popularize Casimir Pulaski.